Being married on the edge of the sea and having a sunset as a stage is one of the dreams and hopes of a couple and Paradise Village Resort & Spa Nuevo Vallarta. You can realize this dream and plan a romantic dinner or a large gala banquet for your guests.
PACKAGES
• Wedding Menu of your choice.
• Free national open bar for 4 hours.
• DJ for 4 hours.
• Center table in the house.
• Luxury assembly for the reception.
• 12 Torches.
• Glassware and household linens.
• Personalized service for the event.
• Security personnel.
• Duel dance floor (applies only in salon).
May apply additional charges.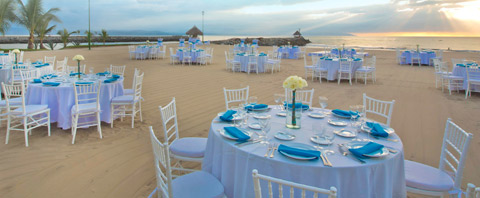 SERVICES
• Flower arrangements.
• Decor and Decorations.
• Photography arrangements.
• Wedding Cake.
• Live Music and DJ Services.
• Sound and Lighting.
• Minister and Wedding Certificates.
• Beauty salon services.
• Spa Signature Treatments.
• Sparkling wine for toast.
• Menu Tasting - For up to 4 People.
• 10% discount on Spa services.
May apply aditional charges.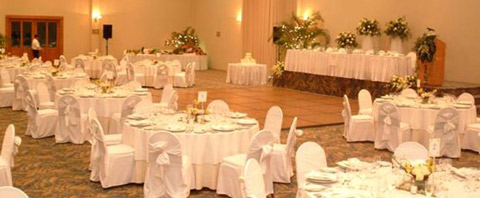 FACILITIES
• 11,561 square-foot Grand Ballroom, divisible into 3 sections with different capacities.
• Capacity for 20 to 1100 people.
• Three additional meeting rooms and an Executive Boardroom totaling 3,874 square feet, accommodating groups from 20 to 300.
• Independent Air Conditioning.
• First Quality Audio-Visual environment and light control.
• Handicapped accessible.
• Private parking area.
• Outdoor meeting function areas for 800 persons.
• Outdoor theater for 500 persons.
• Expansive outdoor banquet and reception space.